Visiting the Evergreen Aviation & Space Museum is always an exciting experience! The museum has all sorts of airplanes on display, from a replica of the 1903 Write Flyer, to the SR-71 Blackbird Stealth Plane, capable of traveling at more than 2,000 mph!
Central to the entire museum, is the Hughes H-4 Hercules, famously known as the "Spruce Goose". This plane has the largest wingspan of any plane ever built, and is made almost entirely of wood. The Spruce Goose is a behemoth of a plane, with a wingspan of more than 320 feet. And not only is it an aircraft, but a transport ship as well! The airplane was developed under commission of the U.S. War Department during World War Two, with the intention of being able to cary an M4 Sherman tank, or 750 fully equipped soldiers. Development and construction of the H-4 took several years however, and was not completed until after the war had ended. In 1947 the Hercules made its first and only flight, flying 70 feet over the water for about a mile. As the war was over, and there was no longer any need for the Spruce Goose, it never flew again.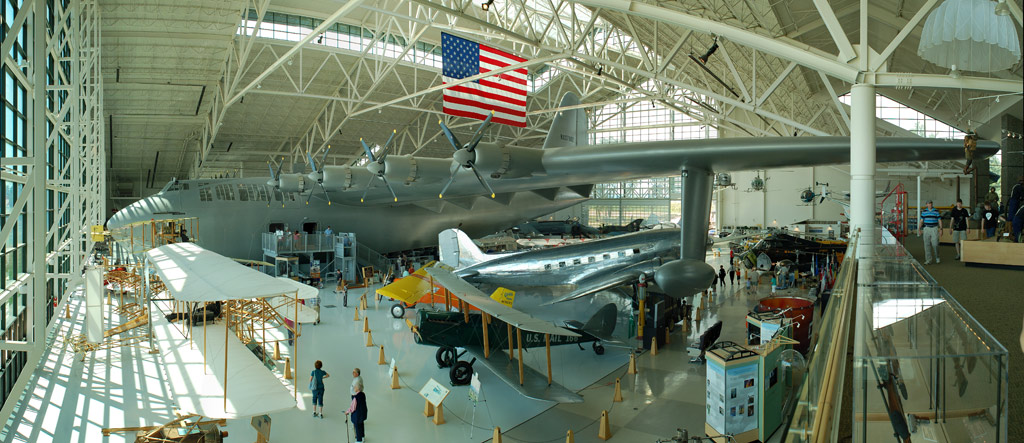 Just as the Hughes H-4 Hercules is central to the main museum building, a Titan II missile is central to space flight center. At more than a hundred feet tall, the Titan II is a little lofty. Because of this the missile is sunken two stories below the floor, in a missile silo which you can go down inside of. This exhibit also features a missile control room with full equipment and a realistic launch sequence! Another exhibit in the space flight center is a flight simulator allowing you to perform a moon landing.
The Evergreen Aviation Museum also has many other aircraft on display, such as the B-17 Flying Fortress, F-15 fighter jet, NASA X-38 crew return vehicle, MiG-21, a large number of WWII-era airplanes, and several helicopters.
Another facet of the museum's property is the Wings and Waves Waterpark! The waterpark includes several exciting slides and a wave pool. The waterpark building also has portion of the building dedicated to teaching about water, including a demonstration of the water cycle, and a wave tank showing how tides and tsunamis work. The building also includes the Milk Way Café, giving you a spot to enjoy a little food.
Museum admission is $25, and waterpark admission is $27 for children and $32 for adults. Museum hours can be found at EvergreenMuseum.org
The Evergreen Aviation & Space Museum is located at 500 NE Cumulus Avenue, McMinnville, OR 97128
Image Credits:
http://www.flickr.com/photos/adactio/5560075270/
http://www.flickr.com/photos/danebrian/6188971703/
http://www.flickr.com/photos/bengarney/24854859
http://www.flickr.com/photos/bengarney/24857228/
http://www.flickr.com/photos/bengarney/24859040